Air Conditioner for Club Car Carryall 1500 & 1700 Diesel Models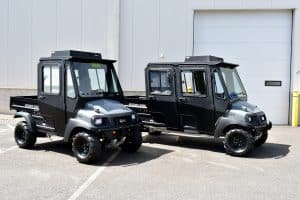 West Boylston, Massachusetts, July 27, 2020 – Curtis Industries, LLC today announced the release of its compact air conditioning system for the Club Car Carryall 1500 and 1700 diesel models equipped with a factory cab.
The Curtis air conditioner is a true automotive quality air conditioner that provides cooling comfort, improved air quality and humidity control. The refrigerant components are completely contained within the roof-top unit and shipped from the factory fully charged with R134a refrigerant, minimizing installation time and complexity.
The air conditioning unit features a stylish, low-profile design that is incorporated into an aluminum replacement roof. A custom overhead console features 3-speed fan control illuminated on/off switch and four adjustable louvers to circulate air throughout the cab.
The unit features fully self-contained refrigeration components pre-charged with refrigerant. Installation takes about two hours and does not require specialized knowledge or training in air conditioning installation or maintenance.