Canopy-Mount Fan for the Advantage Series Universal Canopy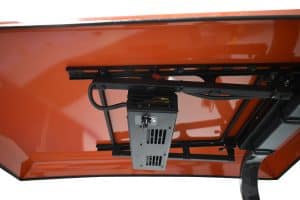 West Boylston, Massachusetts, May 22, 2020 – Curtis Industries, LLC introduces its electric canopy fan accessory for the Curtis Advantage Series Universal Canopy.
A 3-speed high-efficiency centrifugal "squirrel cage" blower delivers powerful airflow but weighs only 11 lbs. Canopy provides protection from the sun while the fan adds airflow to keep you comfortable all summer long. It is a great way to increase productivity.
The fan bolts to the canopy stiffening frame eliminating any drilling or cutting into the canopy. Attach the power harness to the fan harness with plug-and-play connectors. Overhead console allows easy access to blower speed controls.
The fan is adjustable up to 45 degrees relative to the canopy to accommodate the operator's size and comfort level. It is designed to work with the canopy tilted to any angle or in any position, facing forward or facing to the rear for backhoe operation.
Contact your local Kubota dealer for more information.