Club Car Air Conditioning line to include 48V AC for Onward, Precedent & Tempo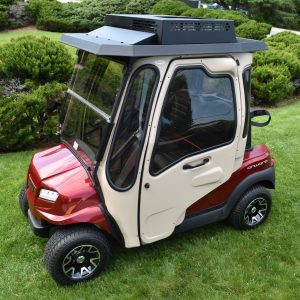 Curtis Industries, LLC, the market leading manufacturer of Cab Enclosures, Accessories and Attachments for Utility Vehicles, Tractors, Golf Carts, and Zero Turn Mowers, announces its latest A/C innovation: 48V Air Conditioning System for the Club Car Onward, Precedent and Tempo Model Golf Carts. All Curtis Cabs and Accessories are proudly MADE IN AMERICA – in Massachusetts. Curtis Cabs – More Innovation, More Value.
Curtis has been a leading innovator of true air conditioning for UTV, Tractor & Golf Carts for years. We are proud to expand our products to include this golf cart line by Club Car.
Real air conditioning for the Club Car Onward, Precedent & Tempo (48V Electric) models offers users the ultimate in operator comfort with protection from the sun, heat, rain, dust, and insects.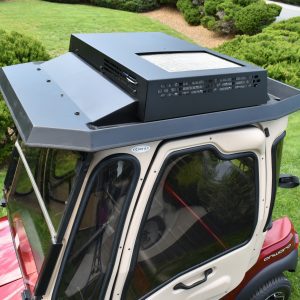 Self-contained system requiring only 3 wire connections to vehicle (system requires 16 amps @ 48 Volts to operate)
20% reduction in range, 100% improvement in comfort
Stylized, low-profile design allows enough clearance to park in most standard garages
Overhead console features multi-speed fan control & four adjustable louvered vents
Simple and easy installation in about 2 hours
Comes pre-charged with refrigerant – no complicated initial set up
1 Year Warranty against defects in materials and/or workmanship.
"I'm old enough to recall that back in the 70's AC was an option on cars. Now it's kind of hard to find a car without AC because we've all discovered how much nicer it is to have "cool" on demand." said Deven Hurst, Curtis's Product Research & Innovation Manager. Hurst continued. "With the Curtis Cab and AC system, now you can be dry and cool on those rainy hot dog days of august in your golf cart."
A full line of Cabs & Accessories is available including:
Cab fits Onward, Precedent & Tempo, gas or electric vehicles.
Optional Front Wiper
Roof Mounted Powerful LED Work Lights
Exterior Mirrors
Other Quality Cab Electronics & Accessories
View the Curtis Air Conditioner for 48V Electric Club Car Onward | Precedent | Tempo at:
https://curtisindustries.net/product/ac-for-48v-electric-club-car-onward-precedent-tempo/