Mahindra Max 26 XLT Advantage Cab for the Mid 2020+ New Loader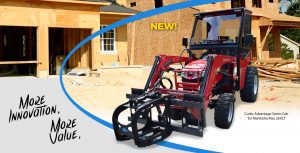 Curtis Industries, LLC manufacturer of cab enclosures, attachments, and accessories for compact vehicles, announces the release of its updated cab system for the Mahindra Max 26 XLT compact tractor with the new Mid 2020+ Loader. The cab still includes a front windshield wiper and cab heater.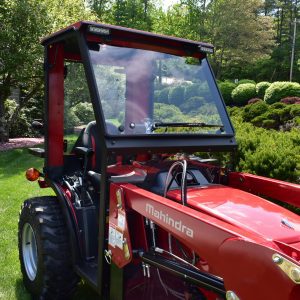 The biggest change is the clear poly cowl that provides excellent forward visibility to the front tires and loader. The frame, doors and roof are still constructed of corrosion-resistant powder-coat commercial grade steel for durability and long life. The roof drip edge extends over the windshield and doors to resist water intrusion into the cab.
Windshield and rear glass panel open for venting as on all Advantage Cab models. Doors and rear panel are pin hinged to lift out in seconds, ideal for open air operation or for backhoe use. Doors are assisted with gas shocks for smooth opening and closing, plus providing better control in windy conditions.
An optional backhoe compatibility kit is available. The kit converts the static roof to a pop-up rear roof for added headroom for the operator.
The Curtis cab is color matched Mahindra red for factory look. Doors are lockable for added security.
The Curtis cab height is 63 inches floorboard to roof, below the vehicle Rollover Protective Structure (ROPS), allowing the vehicle to clear low obstructions and fit in most standard garages.
A full line of Cab Accessories is available including:
Seal Kit
Backhoe Adapter Kit
Artillian 360 Degree Adjustable ROPS Mounted LED Work Lights
2" x 6" Low-profile LED work lights
Dome & Strobe Light Options
Exterior Side Mirrors
Rear View Mirror
Rear Wiper Kit
The cab is sold exclusively through Curtis/Mahindra dealers.
See more information on this new Curtis Cab at:
https://curtisindustries.net/product/mahindra-max-26-xlt-advantage-cab-mid-2020-new-loader/